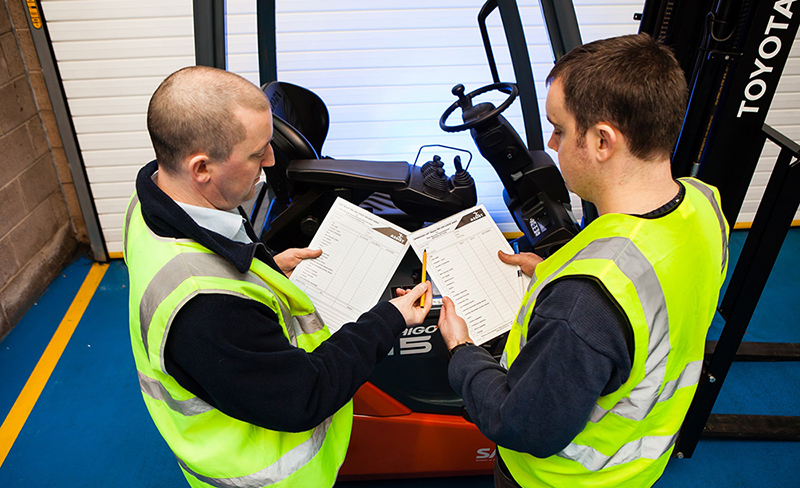 ARE YOU AND YOUR OPERATORS OVERLOOKING LIFT TRUCK PRE-USE INSPECTIONS?
Whatever you call them on your site, pre-use, pre-shift or daily checks they form an important part of most companies' Safe Systems of Work. The lift truck pre-use inspection is a valuable procedure for forklift operations as it helps both drivers and managers to find and identify any faults. These faults could cause otherwise damage to the truck leading to increased downtime or they could be the source of an incident or injury.
One in five incidents are due to mechanical failure
The lift truck pre-use inspection involves checking the general working parts of the truck for signs of damage or wear. Even if a lift truck has been checked by another operator that day, a pre-use inspection should still be carried out when the next driver needs to use the forklift. It's important that a pre-use check is carried out in a different manner for each machine type on site as not all parts and functionalities of differing trucks are the same. The use of machine specific check sheets can ensure that vital areas of the machine are not missed and a thorough check is completed prior to use.
Law
At the beginning of each shift, the operator should check the lift truck in accordance with the vehicle handbook and document the results. They should report to the supervisor any defects which might affect its safe operation to ensure they are put right.
How is the check carried out?
Typically, your fork lift truck check should include the following areas:
1) Damage to tyres, e.g. example swarf, nails and other embedded material, cuts and bubbles. Pay particular attention to the side walls.
2) Pressure of pneumatic tyres.
3) Condition of the wheels, particularly the flanges on rims fitted with pneumatic tyres.
4) Tightness and security of wheel nuts.
5) Functional test of the parking brake, service brakes and steering gear to ensure they are working efficiently.
6) Check fluid levels, e.g. fuel, water, engine and transmission oils.
7) Check that batteries are adequately charged and leak free, the charger is switched off, the charge lead disconnected and properly stored, and the battery retention device is in place.
8) Functional test of systems for lifting, tilting and manipulation, including attachments to ensure they are working properly.
9) Visual inspection of hydraulic systems to check for obvious leaks, ensure hydraulic fluid levels are correct when the forks are in the parked position.
10) Condition and security of the overhead guard and load back-rest extension.
11) Check forks, for cracks, particularly on the heels and mounting hooks, bent or damaged fork tips and missing or damaged fork positioning locks.
12) Check chains, for secure anchor pins, fixing bolts, damaged or elongated links and lubrication.
13) Functional test warning signal, e.g. horn; lights, beacons.
14) Check mirrors and any other visibility aids, if fitted.
Do I need to keep records?
Once the pre-use/daily check sheet has been completed, it needs to be securely stored as, in the event of a truck failure or safety audit, they may need to be referenced. Check sheets are to be kept until the next Thorough Examination Report for the fork lift truck has been made.
You can download our guide here: pre-use checks (pdf)